OUR HISTORY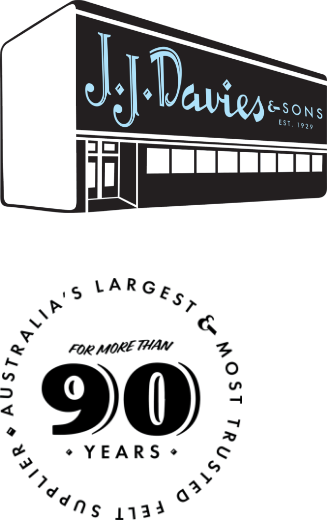 1929

In 1929 J.J.Davies & Sons Pty Ltd began in a garage to emerge as a plastics and rubber manufacturing icon by 1945. Over 70 years later, J.J.Davies & Sons Pty Ltd is the leading supplier of felt products in the southern hemisphere.

The founding company developed the technology to manufacture plastic film, PVC and sheeting. During the Second World War J.J.Davies & Sons Pty Ltd was a major supplier to the armed forces and later provider of PVC coated materials replacing rubber that was then in short supply.

1945

In 1945 J.J.Davies & Sons Pty Ltd was sold to Felt & Textiles Pty Ltd making up its new Plastics Division located in Murrumbeena, Victoria. As a plastics division, the Murrumbeena factory also included the supply of the felt products manufactured in Sydney by Felt & Textiles Pty Ltd.

1967

The year 1967 saw J.J.Davies and Sons Pty Ltd re-emerge as an independent company continuing with its work of combining, slitting and cutting customer materials and the continued supply of industrial and decorative felts produced by Felt & Textiles Pty Ltd.

OVER TIME

Over time, J.J.Davies & Sons Pty Ltd became the largest buyer and consequently supplier of felt products in Australia. When Felt & Textiles Pty Ltd closed its felt production operations in 1975, J.J.Davies sourced felt from South Africa, Germany, Japan, United Kingdom, Italy, France and U.S.A. in order to maintain supply to the Australian market. Demand for felt led to the establishment of subsidiaries in Adelaide – Felt Fabricating Pty Ltd in 1983 and in Sydney – Felt Distribution (Aust) Pty Ltd, in 1984.

TODAY

Today "our group" is the largest importer and supplier of felt in the southern hemisphere with the largest range and stock holding. Our felts are manufactured in Germany by BWF Tec GmbH & Co.KG to the standards of ISO 9001:2000. We believe these felts are of the highest quality and offer the largest range available. Currently we supply manufacturers, wholesalers and the retail industry throughout Australia, New Zealand, China, Thailand, and the South Pacific.
GET IN TOUCH WITH US
We'd love to find a solution for your felt & cutting needs!